"Let noble thoughts come to us from every side"
سورة الفاتحة
بسم الله الرحمن الرحيم
الحمد لله رب العالمين
الرحمن الرحيم
مالك يوم الدين
إياك نعبد وإياك نستعين
اهدنا الصراط المستقيم
صراط الذين أنعمت عليهم غير المغضوب عليهم ولا الضالين
Prayer – Al-Fateha
In the name of Allah, The Beneficent, the Merciful, Praise be to Allah, Lord of the worlds, Owner of the Day of Judgement.
Thee (alone) we worship; Thee (alone) we ask for help.
Show us the straight path, the path Of those whom Thou hast favoured, Not (the path) of those who earn, Thine anger nor of those who go astray.
VISION
"Bhavans Public School, Doha-Qatar strives to endeavor in a technology driven environment towards developing global citizens imbibed with values, who will guide desirable and sustainable social transformation and catapult world to make a better place to live in".
MISSION
Providing a creative learning environment that recognizes the uniqueness of every learner.
Integrating value component into all activities of the school.
Enabling learners to acquire a set of competencies which make them architects of future. Using technology to enhance the effectiveness of pedagogy and management.
Announcements
As per the instructions from Ministry of Education and Higher Education, school will remain closed for students from tomorrow, 10th March 2020 till further notice and School Examinations are postponed. No change in CBSE Examination Schedule.
There will be  change in office timings w.e.f.24-03-2020 (Tuesday).Revised timings are the following,
 Sun-Wed :8 am – 3 pm
 Thursday:8 am – 1 pm
 Saturday :9 am – 3 pm
Pledge of Loyalty
"This morning, I take the pledge,
That I shall be loyal to my country,
That I shall dedicate myself to the service of my nation and my people,
That I shall preserve the freedom of my sacred land and work for its prosperity,
And that I shall strive for world peace and the brotherhood of mankind."
School Prayer
Almighty God; we thank you for giving us a new day.
Shower your Blessings on the ruler of this land and his family, On our Fellowmen, our country and our school.
Enlighten our minds and strengthen our body, to do always what is righteous in Thy sight.
Forgive us if we do wrong and grant us the courage to face challenges.
Protect us from danger and keep us in your loving care forever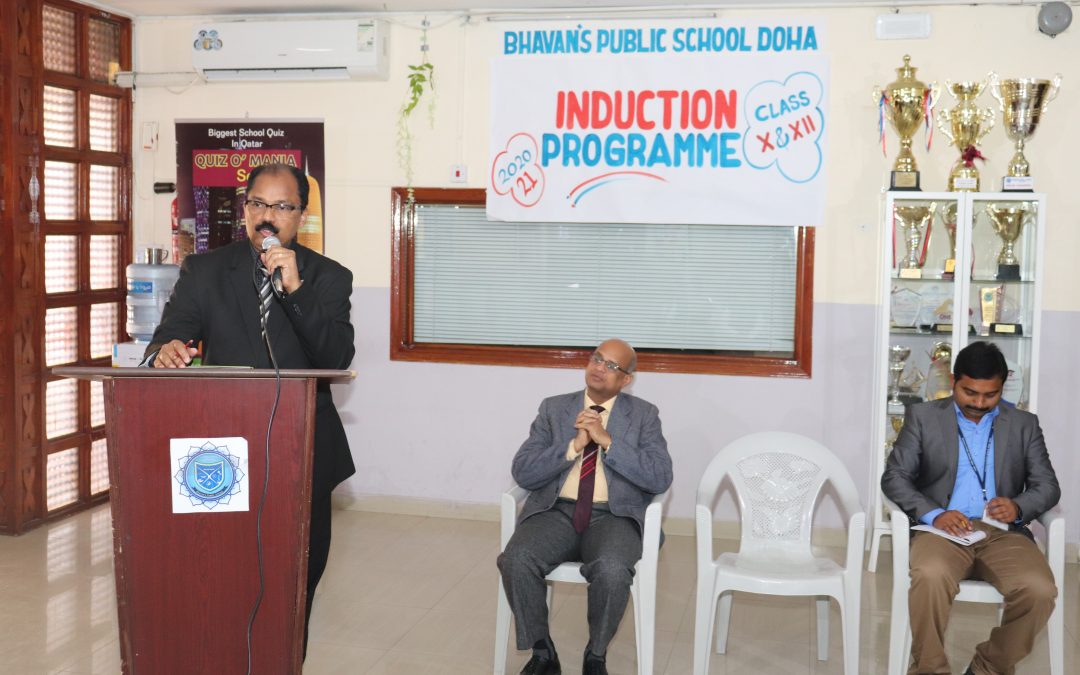 A formal induction program was held for Class X and XII students at 9.30 am in Wakra campus. Academic Coordinator Mr. Thomas Francis welcomed all and introduced the students to the program. Principal, Mr. M P Philip initiated the Induction Program with moral story on...
read more
Dear Parent, Greetings from Bhavans For the convenience of Parents, as there is no other option in the current situations to collect Text books and stationaries from the School Store, we have made arrangements for door delivery of the same by school Staff in School...
read more